We are one year into the pandemic. ONE YEAR. In some ways, it feels like the past year was a blink – I can barely remember some of the things we did last spring, summer or fall. But in most ways, the past year felt never-ending, and incredibly hard. Local businesses have struggled to keep their doors open as capacity limits and other necessary safety protocols affected their ability to reach customers.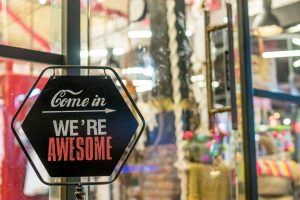 As a Mom-and-Pop shop right here in Madison, SwimWest is an advocate for supporting local whenever possible. Here in Madison we have amazing restaurants, shops and other small businesses that need our help to make it through the year. Buying from a local bookstore instead of Amazon or Target is definitely a great start, but there are ways to help that don't cost (much) at all! If you're looking for a way to help support our local community without spending a lot, here are some ideas for helping show the love to our local businesses. 
5 Free (or Cheap) Ways to Support your Local Businesses this Spring
Write a positive review on social media.

This is one of the easiest ways to support local businesses. Find the company on Facebook or Instagram and take a few minutes to share why you love them. Nextdoor is another great way to share about places you enjoy – just create a post to let your neighbors know what YOU know! 

Send an email

. Morale is down with just about everyone, and sending a note to a business you love to let them know you appreciate their work is a great way to make sure they feel supported by the community. Share about an employee going above and beyond, an item that you can't live without, a meal you enjoyed or just a general positive note to boost their spirits during this tough time.

Tell your friends and family about them

. Word of mouth is more important than ever as people are more cautious about where they go and what they do. If someone asks for suggestions on Facebook, share your favorites! If your mom is looking for a place to buy a new shirt, tell her about the local boutique you love! It's a simple and easy way to make sure your favorite local businesses find new customers. 

Tip on small purchases.

Round up on your coffee at the local coffee shop, or give an extra dollar or two when you order delivery. Tipping a bit more than usual is a great way to make sure our restaurant and hospitality employees are able to support themselves while capacity is limited.

Ask for recommendations!

Just as sharing about your own favorite places is a great way to support businesses, getting ideas from your own friends and family is just as great! If you're looking for a local bookstore or coffee shop, ask for suggestions! If you're already planning on spending money on an item, wouldn't you prefer that money was used in your own community? 
Thanks for your support in keeping our local businesses strong and healthy!