The snow is melting, birds are chirping and temps are inching up slowly but surely…spring is on its way! After a long, Covid winter, there's nothing better than feeling like there are warm (and better) days ahead. 
With Spring Break only a few weeks away, many families are beginning to travel again, and many are heading south to soak up a few days on the beach or by the pool. As you make your plans for break, make sure you review our safety tips to make sure your family is prepared for swimming pools, beaches or other bodies of water.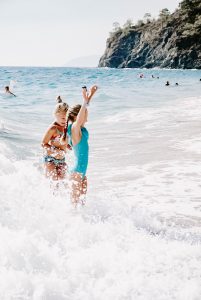 Water safety is a passion at SwimWest, and much of the programming is centered on creating safe, confident swimmers. The skills taught during swim lessons are critical in preventing an accident while in a new, unfamiliar place. The MOST important thing you can do to keep your child safe while on vacation is to make sure an adult is always supervising while the kids are in or near the water. Beyond that, swim lessons can help create a safety foundation for your kids and help them learn critical skills that will help them even when they are far from home. 
Here are 5 ways swim lessons help prepare your child for trips away from home
Safety week – each month, SwimWest holds a Safety Week for kids enrolled in swim lessons. Kids learn to swim with clothes on, how to correctly wear and swim with a life jacket and other critical safety skills. Vacations often include time in or near the water – from swimming to boating to fishing – and these lessons help kids understand the importance of wearing life jackets and being cautious near water. 
Water awareness – SwimWest teaches kids how their bodies feel in the water – without the use of floaties or other "props" to help kids in the water. Those types of floatation devices can give kids (especially the youngest swimmers) a false sense of confidence in the water. By helping kids learn to float and understand how their bodies move (and can sink) in the water, it helps them become more aware of the power pools can have. 
Confidence – while avoiding floaties to prevent a false confidence, SwimWest does an excellent job at helping kids understand what they CAN do in the water. From starting on the steps of the pool to gradually moving further down the wall (and eventually to lap lanes and the deep end!) kids can visually see where their skills and abilities fit.
Enjoyment – swim lessons are FUN. They certainly help teach skills and promote safety, but being in the pool helps kids learn to love and respect the water. They splash, talk with peers, jump in the side and have a blast learning new skills. Trips are MUCH more enjoyable when your child isn't afraid of the water.
Advancement – Kids LOVE to show off their swim skills to their families and friends. SwimWest helps move kids along at their own pace, building on the early foundational skills and moving up towards more advanced strokes. On your next trip to the pool or beach, ask your child to show you the strokes they've learned (scoops, pizza arms, etc) and watch as they proudly show you how they've advanced. 
Whatever you have planned this spring, stay safe and have FUN! Enjoy these beautiful "warm" days!