Read Across America was started in 1997 as a way to encourage a love of literacy in children. While many people know March 2 is Dr. Seuss's birthday, did you know March celebrates "Love of Reading" all month long? In the same way Football hosts pep rallies, March is the month to spark excitement and enthusiasm about literacy. This month, SwimWest will be collecting books to donate to the Madison Reading Project! If you'd like to donate a book, stop by one of our locations or give us a call anytime with questions. Many schools and libraries host special events to celebrate, but there are lots of ways to celebrate right at home.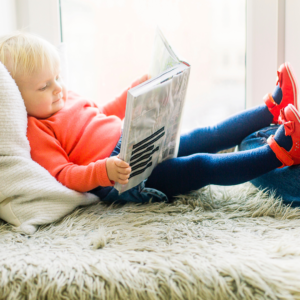 Here are a few fun ways to put the spotlight on literacy this month!
Read the Book of the Month from Read Across America. This month, the children's book is The Book Tree about a small town Mayor who declares books dangerous and destroys every book in town. Each month, Read Across America highlights a different book (one for elementary, middle and high school ages) that represent a wide array of experiences and cultures.
Set up a Book Swap with Friends. Kids choose books they have already read or no longer want/need and swap with their buddies! Such a fun way to discover books other peers have read and enjoyed, while cleaning out your own bookshelves. Easy, free and FUN!
Read under the Stars (or at least in the dark!). Create a little nook or fort, dim the lights, and let your little one read by flashlight or lantern. Something about reading in a "fun" environment makes kids so much more excited to snuggle up and dive into a good book. Bonus points for climbing in with them (preferably with PJs on!).
Find a Guest (or Mystery) Reader. We all love reading to our kids, but there's just something extra special about making the reader a "mystery" person. See if a neighbor, friend, babysitter or grandparent will make a special visit to read a book to your child at home or school!
Dress like your favorite character. Kids love to dress up, and this is the perfect excuse! Let them take the lead on choosing a favorite book and character, and help them disappear into a fictional world for a day.
Hit the library. Libraries are wonderful every day of the year, but this month, make a point to check out some of the special events and offerings at your local branch. From STEM clubs to music classes, libraries offer tons of fun, educational activities for all ages.
Hope you have fun reading this month – and for more ideas, visit https://www.readacrossamerica.org/!