While this school year will certainly look (ahem) different for many families, the end of summer is in sight, and it's time to begin planning out what the school year calendar will look like in the midst of COVID.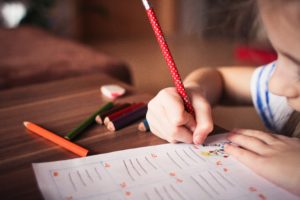 In a normal year, parents may be willing to pack their after-school evenings with enrichment activities, but this year many families are simplifying their routines and cutting back on non-essential outings. It's hard enough navigating which activities are still available this year, but trying to figure out what a typical day will look like when school is SO different is enough to stress out even the most chill parent around. So how do you choose? How do you know what to keep and what to toss in a year in which ALL things feel different?
While you're considering your options this fall, we hope to have you back in the pool with us at SwimWest. 
If you're looking for an activity that will limit your child's exposure to others, keep them active and give them the chance to socialize a bit, look no further! SwimWest has extensive safety procedures in place to make sure your kids stay safe while swimming. With small class sizes, fewer families in the viewing room and locker rooms and many other safety changes, our facilities are ready and able to accommodate another year of lessons.
It may be tempting to take this year off with everything going on in the world, but consistency in swim lessons is key to keeping your child safe in and around the water. Beyond the simple fact that swimming is fun, there are tons of reasons to keep swimming year-round. 
Here are a few benefits of year-round swim lessons:
It keeps kids active ALL year round. We live in Wisconsin and our weather gets nasty quickly in the fall. Without the commitment to an exercise program, it's all too easy to stay on the couch under a blanket. Kids become much less active when they can't easily get outside to play on the playground, ride bikes or kick a soccer ball around. Swimming gives them a full-body workout – even in the middle of winter!

It keeps them ready for swim team. For older swimmers, year round lessons keep them practicing the skills and endurance they need for summer swim team. 

It relieves stress. Many studies have shown that swimming is an excellent way to relieve stress…and if we EVER needed a year to relieve stress, 2020 is it.

It builds confidence. Kids swim at their own pace and their own level. Teachers are able to meet kids where they are at and help them build on their skills. 

It gives them an opportunity to build social skills. The pool is a great "ice breaker". Kids love to splash and generally enjoy the water. Kids find ways to connect as they learn new skills, play games, tell jokes with their instructors and learn together.
This is definitely a year we'll never forget! We hope to see you at the pool!
For more information about our safety measures, visit: https://www.swimwest.com/back-to-the-pool-new-safety-measures-same-swimwest/