Swimming is a lot of things – excellent exercise, fun and relaxing, a way to cool down on a hot day and an activity to tire out your kids! Ha! Many people think of swim lessons as a summer activity – hitting the local pool on one of our sweltering Wisconsin days, for example – rather than a year-round activity. But there are TONS of reasons to make swim lessons a priority all year long (even on those brutally cold, polar-vortex type days). Safety, for one. Building confidence, for another. But one of the lesser known reasons is actually one of MY favorites – it helps boost your child's social skills and build their confidence with peers.
How, you ask?! 
The pool is a natural gathering place.
Even in our northern state, it's hard to imagine a summer go by without hitting the pool. It's a spot where kids love to interact through play – through games like Marco Polo, hand-stand competitions or "tea parties" under the water. Kids love to dive for rings with friends, show off their diving board skills and make up their own silly games. Give a kid a pool and they will play!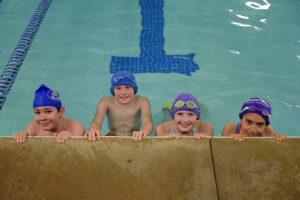 The pool builds confidence.
SwimWest does an amazing job at building confidence through swim lessons. They celebrate small victories (and big ones, too!) with praise, ribbons, postcards from instructors and "leveling up". As kids accomplish a new skill (from putting their face in the water for the first time to completing their first 100m) they do so alongside their peers. In the small group lessons, kids are able to learn and progress with their peers – giving them confidence in themselves AND a chance to cheer on their classmates. Since classes are based on skill level, kids are able to work at their own pace with others at a similar level.
Swim lessons are FUN.
They really are! Kids are placed in a small group of their peers and get to splash and play for 30 minutes. As a parent it's really cute to see kids that were strangers prior to class giggle and talk while they wait their turn with the instructor. Because kids in a class take turns swimming, it gives the other kids a chance to interact and get to know each other without the distractions of a large group.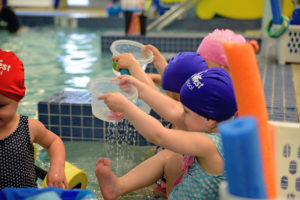 Lessons are supportive, not competitive.
SwimWest has done an excellent job motivating my extremely competitive child without making him frustrated or upset when others advance ahead of him. He is proud of his own accomplishments and the support he gets along the way. When another child moves up to a new level, he's usually just as happy he got a ribbon for mastering a new skill. I love that they prioritize keeping things positive and that helps kids find ways to connect in a positive way. 
There are likely MANY more ways swimming and swim lessons can help build social skills and relationships, but these are a few that have stood out to me as we have been a part of the SwimWest family. I truly believe that swim has helped both my kids build confidence and a sense of accomplishment, which has in turn helped them feel more sure of themselves in general. 
Here's to only a few more months til summer and long, lazy days at the pool!