Did you know April 28th is National Superhero Day?! Neither did I! I just learned that Marvel Comics (surprise, surprise) started this "holiday" in the 90s to celebrate real and fictional superheroes…Sort of like Mother's Day, but for honoring heroes of all types.
This is a manufactured holiday I can really get behind…by popping some corn and loading up my family's favorite superhero movies (costumes encouraged, of course). But beyond the on-screen heroes we all know and love, I also appreciate a day meant to honor those we know in real life – especially after the past year.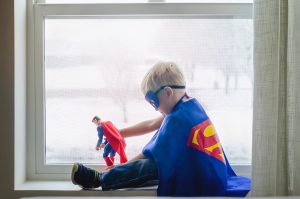 Covid-19 has shown us heroes are truly everywhere – from the nurses and doctors on the front-lines, to the grocery workers or delivery drivers making sure we're able to get what we need during a pandemic. The list of everyday heroes that have helped us all get through the past year is extensive, and what better way to acknowledge them than National Superhero Day?! 
Here are a few ideas of how you and your family can share their gratitude for heroes in your own everyday lives:
Make cards or pictures! Have your kids write a thank you to a hero they look up to in the community – maybe it's a teacher or a police officer or your neighborhood postal worker. These people have continued working hard despite ever-changing and challenging circumstances. 
Thank a special family member or friend. A grandparent? A cousin? A neighbor? Whoever it is that has made an impact on your family, let them know! 
Donate. Giving back is a GREAT way to honor heroes, and there are tons of simple ways to make a difference. Maybe you want to donate blood, or help raise money for a favorite local organization. Maybe you donate clothes or food or money to a place in need. Whatever it is, giving back feels great for everyone involved.
Learn together. Look up local organizations or community leaders making a difference in your area, and talk with your kids about WHY the work is so important. Show your kids that heroes are all around us!
There you have it – 4 fun ways to share your gratitude to our local heroes this month…but don't forget the popcorn and movie, too! 
Happy National Superhero Day!