Questions about our classes, programs, or swimming in general? Below you'll find the answers you're looking for.
How do continuous swim lessons work?
You find a day and time that has the class that you need and you register in that class. That is your day and time until you decide to take a break, you move to another day and time, your student moves up a level, or the School year or Summer schedules come to an end. SwimWest has a School Year schedule and a Summer schedule, allowing for year round, continuous lessons. To attend lessons year round, enroll for a School Year schedule class and enroll for a Summer schedule class.
What are the benefits of continuous enrollment?
Students learn better with consistency thus promoting constant progress. Swimmers can enroll at any time throughout the year. SwimWest has a School Year schedule and a Summer schedule to allow for families who need to change schedules over the summer months. Continuous enrollment is budget friendly.  Rather than paying tuition for several months at a time, families will be enrolled in monthly billing.
What happens when a swimmer is ready to advance a level?
Students will receive a level completion ribbon once they master all of the required skills of that level.
Following a level completion, please contact the front desk to schedule your child in his or her new level.
If there is no opening available at your current class time, we will work with you to find a new time that fits your schedule.
If there is not an opening in their new level at a convenient time, the student can be put on a waitlist for an ideal time.  In the meantime, they will begin working on the next level set of skills in his or her current class.
How long does my child stay enrolled?
Continuous enrollment means that your child will stay enrolled in their class day and time until they move up a level, you need to make a change, or the School Year or Summer schedule come to an end. To attend lessons year round, you must enroll for a School Year schedule class and a Summer schedule class. School Year schedules start after Labor Day and end typically after the first week of June. Summer schedules start the second week of June and end the week before Labor Day.
How do we make a change? Can we change class times?
You can transfer to a different class at any time.  You do not need to provide advanced notice. Ask the front desk for assistance.
If you wish to take a break from lessons, a withdrawal form must be completed a minimum of 30 days prior to the day you would like to discontinue.
No refunds will be given for cancelling with less than a 30 day notice.
How do I un-enroll or drop from lessons?
If you wish to take a break from lessons, a withdrawal form must be completed a minimum of 30 days prior to the day you would like to discontinue. The forms are available HERE.
Refunds will not be issued for cancelling with less than a 30 day notice.
You can transfer to a different class at any time.  You do not need to provide advanced notice.
What is the price of lessons?
For levels Little Snapper-Shark the price is $23.25 per lesson. Parent Tot is $19.25 per lesson.
Do we get a discount if we have multiple students enrolled?
Immediate family with 2 enrolled swimmers will get a discount of $1 off each per lesson.  Families with 3 or more children enrolled will get a discount of $2 off each per lesson.
How are we billed?
When you register, you pay for the classes remaining in the current month and then you are charged monthly on the first business day of each month.
How are we billed for partial months?
We do pro-rate tuition for partial months. If you start in the middle of a month you are charged for the days left in that month. If you leave in the middle of the month you pay for the classes you are enrolled for. If SwimWest is closed for a holiday you will not be charged for that day.
What is the makeup policy?
All absences must be reported to SwimWest ahead of the missed class to qualify for a makeup lesson. When we are aware of absence ahead of time, we can offer more availability to families for scheduling makeups.
Due to our rapidly changing enrollment, we can only schedule makeup lessons no more than one day prior of the scheduled makeup class. Calling the day before you wish to schedule your makeup lesson or the day of, ensures you will be offered the most current availability and will greatly reduce the chance your makeup lesson might need to be rescheduled due to a new enrollment.
An unexcused absences is when you failed to notify SwimWest before the absence occurred. All unexcused absences will be eligible for a family swim pass.
Excused absences, if preferred are welcome to receive a family swim pass instead of a makeup lesson.
Makeup lessons are not guaranteed, but are based on availability. We encourage you to attend lessons regularly to encourage your child's progress.
With continuous enrollment, make-up lessons must be completed within the current session.
Do you offer Open Family Swim and Lap Swim times?
Yes, we do! Click here for our Open Swim Schedule.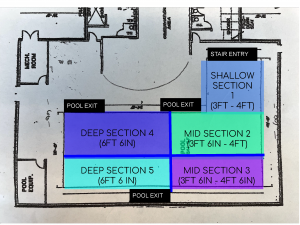 What is the water temperature?
Our indoor pools are kept at 89-90° year-round.
How do children stand in the water?
We have specially designed platforms that the children stand on while they are waiting to take their turns. These platforms make the water depth about two (2) feet. Our Fitchburg location has built-in stair stations for each lower-level class.
What if my child is scared or crying?
If your child is nervous or crying, please take a moment to chat with the instructor and then let him/her work with your child. Some children may suffer from separation anxiety, and this will go away as soon as the child gets to know and trust the instructor. A fear of new places may also cause a few tears, and this will also go away with time. Being afraid of the water is not uncommon in younger beginners, but the instructor will compassionately help your child adjust to the water through games, songs and basic skills. With time, your child will be happy and successful in the water. Please be patient and allow the instructors and staff to work their magic with your child.
When should my child stop taking swimming lessons?
This really depends on you and your child's goals. SwimWest is geared to take children from 6 months all the way up to recreational swim team. We love to see our swimmers move on and compete in our achievement swims and stroke clinics. Many of our swimmers compete in local, outdoor pool swim teams and high school teams. We build a love of the water in our students.
How long do classes run?
For classes that focus on water acclimation, introduction to skills, safety and strokes,  30 minutes is the right amount of time to keep your child interested, focused, and happy in the pool. Our stroke refinement levels of Manatee, Whale and Dolphin meet for 45 minutes. Our Shark level meets for 60 minutes.
What can I do to make my child comfortable in the water?
Let the instructor do most of the teaching. Children learn from repetition and fun. Bath time is another good time to play with skills and have fun in the water. Practice floating or blowing bubbles and kicking your legs in the tub or pool. More homework tips can be found by clicking here. 
Can my child swim more than once a week?
Of course! The more a child is exposed to the water the faster they will learn to swim. Just be sure not to over do it. Children need all kinds of activities to stimulate their minds and bodies.
Why doesn't SwimWest use floatation devices?
We believe that floatation devices give children and parents a false sense of security. We want our children to feel the water and how it effects and moves their body. The floatation devices tend to make the child swim in a more vertical body position and do not allow the child to discover their own body's buoyancy. In swimming, you want your body to be in a more horizontal or streamline position so that you can move through water more easily.
Does SwimWest hold lessons during bad weather?
Our westside location of SwimWest will still hold lessons during rain and thunderstorms because there are no outside windows. Our Fitchburg location has several windows in the pool area and must suspend lessons during cloud-to-ground lightning, but lessons usually resume within a short amount of time. We will extend your lesson time or offer a make-up lesson if this happens.
During bad snowstorms, we will make a decision on whether or not to hold classes. All lessons will depend on driving conditions. If you feel it is not safe to come to lessons, we can issue a one-time Family Swim Pass for your missed lesson. We will cancel classes via email, voicemail, Facebook, and our website. Since we cannot control the weather, SwimWest cannot guarantee make up lessons for inclement weather.
What number do I call for status of the day.
Please call our customer service at (608) 831-6829 or (608) 276-7946 if you have questions about our status for the day.
Where are parents able to watch lessons?
We encourage all parents to watch their children swim! Parents and siblings can watch lessons from our observation area. If you remove your shoes, you are welcome to watch lessons on deck as well. No shoes are allowed on the pool deck in order to keep our floor and pool water clean.
Do you have a Lost and Found?
SwimWest has a Lost and Found for all those items you might leave behind. All items found throughout the day or in the locker room at the end of the night will be put in our Lost and Found. We cannot hold items at the front desk. If you find an unclaimed item, please put it in the Lost and Found. All lost and found items are donated on the first of each month to a local charity.
What is a Deck Manager?
A Deck Manager is available to answer your questions regarding your child's progress, a technique we are using in swim lessons, or any other questions you might have. They will educate you on lesson progression and practice activities. They evaluate your student and hand out ribbons as children pass skills in their level. We encourage you to speak with the Deck Manager at anytime.
Do I need to bring my own lock for the lockers?
Anyone using the lockers is responsible for bringing their own lock. You cannot keep your lock on a specific locker any longer than when you are in the facility. Please remember that SwimWest is not responsible for any lost or stolen items.
What if my child is not potty-trained?
All children 36 months and younger need to wear 2 reusable swim diapers at the same time. Disposable swim diapers (such as "Lil' Swimmers") are not allowed in our pool. The cotton inside those diapers leaks out and clogs our pool filters. Our reusable diapers have a tighter fit which helps to avoid "accidents" in our pool.
Where can I change and shower my child?
For your convenience, our west side location has family rinse showers on deck and family changing rooms with additional changing stalls on deck and in the observation room. Our Fitchburg location has an area with family changing rooms and rinse showers for your convenience.
Do Adult lesson participants need to wear goggles and a swim cap?
We do require all swimmers wear a swim cap to aid in keeping our pool cleaner. Goggles are optional and available to borrow at SwimWest. In addition, caps and goggles are also available for purchase at SwimWest.
What type of apparel is appropriate for Adult swim lessons?
SwimWest has no restrictions on the type of swim apparel. However we ask that it is appropriate for our family orientated facility.
What should one expect at a first swim lesson for the Adult lesson levels?
During your first class, your instructor will ask you exactly what you are hoping to gain from the class, whether that be comfort, stroke refinement, or training for an event.
Are they Adult swim lesson class sizes the same as SwimWest's children lessons?
Yes, SwimWest keeps them maxed out at 3 swimmers per instructor as we do for most of our swim levels at SwimWest.
For Adult lessons, how does an instructor deal with a beginner Adult swimmer vs. a recreational Adult swimmer?
The swim instructor will rotate through each swimmer, giving each swimmer independent tasks to work on.
How do I check my child's skills for their swim class?
You may check your student's skill progression through our Parent Portal. After our deck manager evaluates your swimmer, our customer service staff will update your student's skills and send an email notification to you. You may also inquire at any time about your child's swimming progress by speaking with our customer service staff.
What can I find in the Parent Portal?
Why do you give out ribbons to students?
SwimWest hands out ribbons to students to celebrate their progress and achievements, and to keep inspiring them to continue. Ribbons are handed out as students master core skills in their levels.
Is it safe to swim?
Yes. The CDC issued guidance that it is safe to swim as the virus cannot be spread via properly chlorinated and maintained pool water.  Both SwimWest pools meet or exceed the health standards set by the CDC.
Here is a LINK to the CDC direction on swimming and pool water.
Likewise, HERE is an article outlining how the virus cannot be spread in a properly maintained pool.
What are my lesson options?
Group lessons: Our group lessons will be running as normal
Family Private lessons: Our family private lessons will be 30 minutes long. 1-4 swimmers of similar levels from the same family in the same class. $93.00 per weekly lesson. Contact customer service for availability.
Want to take a class with a friend or neighbor? We may be able to put you into the same class if they are the same level or one level apart. Contact customer service if you need help finding a class.
Swim&Recess classes are new classes we started that have a 25-minute swim class and then 15 minutes of the free swim with your lesson participants. This class is an additional $5.00  Look for these lessons on the schedule under the level you are needing, or call customer service  608-831-6829 for Deming, 608-276-7946 for Fitchburg, or use the chat button on the website.
What is SwimWest doing to comply with social distancing?
We are asking that you bring only one caretaker per child inside the swim school to help with social distancing. 
Chairs in the observation rooms and pool deck will be spaced out and we ask that you be mindful of others and patient while occupying shared spaces.
We ask that students arrive only five minutes before their scheduled class time to keep occupancy numbers low and walkways clear. Please exit the building as soon as possible following your child's lesson.
Lesson start times will be staggered to ensure we have a controlled flow of people into the facilities.
Please note that our West Madison location has traditionally run their clocks 5 minutes slow. We will no longer be running clocks slow – classes will begin at their designated time.
What can I expect to see different at the SwimWest locations?
Children or anyone in the parent-tot classes will not be required to wear any face covering while swimming.
All teachers will be wearing face shields. While a face shield may be a strange sight to your child, we will be working on making the shields as fun as possible.  Our goal is to maintain SwimWest's commitment to creating a warm and loving environment while also keeping your children and our valued teachers safe.
What is SwimWest doing to keep the schools clean?
We have always followed CDC cleaning protocols and those set out by other health professionals and authorities.  We also use CDC-recommended cleaning products.
The facility will be wiped down throughout the day including high traffic areas and all door handles, tables, chairs, toilets, etc.
Disinfecting wipes will continue to be available throughout the facility and in changing areas for families to use if they want to do additional wipe downs.
The use of pool toys in our lessons is being scaled back 
Additional deep cleans will be utilized as needed or recommended.
All observation room books and toys have been removed to prevent the spread of germs in the observation areas.
Hand sanitizer will remain available at all locations but since supplies are so limited, we encourage families to bring their own.
What can I do to keep the schools a safe place for me and my family?
If you have visited SwimWest Swim School and have come in close contact with anyone who has experienced symptoms, we ask that you please notify the school immediately before returning. You may be asked to obtain medical clearance before returning to the swim school.
Any individual with a suspected or confirmed case of COVID-19 is asked to notify us and remain out of the swim school until receiving written medical clearance to return.
If you have been in contact with anyone who has, or with anyone who has been diagnosed with COVID-19 or any flu-like virus, please notify the school immediately before returning. You may be asked to obtain medical clearance before returning to the swim school.
In general, if you or anyone in your household are sick or exhibiting symptoms of any illness, we ask that you fully recover before returning to the swim school.
SwimWest is continuously updating its safety measures so you may see additional precautions being implemented or existing protocols modified at your school.
What steps does SwimWest take to properly maintain their pools?
Since its inception, SwimWest Swim School has been at the forefront of building and maintaining pools that fight the spread of viruses and bacteria, including COVID-19, as well as the flu and other common childhood viruses.
Providing a safe and clean environment is why SwimWest Swim School has invested heavily in the infrastructure of our pools.

In addition to the appropriate use of chlorine, each pool has a high-quality UV water purification system that keeps the water clean. When water is pumped through our UV system, ultraviolet light rays kill dangerous germs and inactivates viruses.
SwimWest's cutting-edge air filtration systems continuously expel stale air from the pool room and replace it with 100% ambient, fresh air.
Our dehumidifiers have features like antimicrobial filters and controls that enable us to maintain healthy humidity levels that reduce the survival of bacteria and viruses.
SwimWest pools are equipped with state-of-the-art equipment that monitors pool chemicals electronically and, in addition, we perform scheduled and documented manual water tests throughout the day to maintain healthy and balanced pools.
SwimWest pools are permitted by the governing Health Departments and are periodically inspected without notice by local authorities.

SwimWest pools are some of the cleanest and safest places for your children and our instructors.
$5 extra per swim lesson 
Are you looking for additional time in the pool after your swim lesson?   We have created the perfect program to include a swim lesson, and play time wrapped together.   A 25 minute swim lesson followed by 15 minutes of in-water play with an instructor.  We have a limited number of recess classes scattered throughout the week.
Billing will charge on the first of the month.
Register by contacting the front desk for days and times or follow the link and register online.
Swim and Recess:
How long does it last?
Swim Lesson 25 minutes and the recess is 15 minutes right after your child's lesson
How much does it cost?
It is only $5 more than the normal lesson!
Can all my children swim together or do they have to stay with the children from their lesson?
The recess will just be for the kids in that class and they will stay in their designated area.
Will social distancing be enforced?
As always, we will do our best to social distance as they play
Can I use a make-up instead of paying the extra amount?
Makeups for an already Splash and Play that you missed, can be used toward another Swim and Recess.   Another way to try out Splash and Play is to pay an additional $5 to join into the class with your make up you have on file to use.
Do I have to commit to every week
Yes, this is just like other swimming lessons.
Can I swim with my child?
Parent Tot parents and Little Snapper parents (if they would like to) can swim with their child. All other  levels will play with their instructor during the last 15 minutes. 
Will this be offered for every level?
Yes we will be offering this to every level. 
Do you offer drop in/last minute sign up options? If not, how far in advance do I have to sign up?
Recess classes are registered for like normal lessons.  If there is an opening in the recess class you may enroll your child in that class. 
How do I sign up?
You register for the class just like any other lesson.  You can register at the front desk of either SwimWest location, over the phone or online. 
What happens if we miss a class with a scheduled recess?
You will have a regular makeup on your account that you can schedule a makeup just like regular swimming lessons. We cannot guarantee you will get into a recess class.