I don't know about you, but this time of year I start getting the itch to purge. My son has a December birthday, which is closely followed by Christmas, and I know very soon we will have toys, gadgets and gifts arriving and filling up our home. I LOVE to give. It's my love language. I love to see the excitement on my kids' faces as they look at their presents under the tree, I love to show family members I love them by choosing a perfect-for-them gift.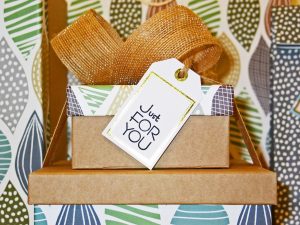 But loving to give doesn't mean I know how to handle the influx of STUFF each year. I find that too many toys is overwhelming for my kids and they don't even know what to play with (let alone keep those toys picked up and organized!). We still give toys, but we try to make those gifts intentional. We choose carefully items we know our kids will actually use and play with, and we skip the toys with excess pieces that scatter all over the house. Beyond toys, we have hopped on board the "experience gift" trend, and have found experiences are fun for the entire family….and don't make a mess. 😉 
If you're in the same boat and love the idea of gifting experiences, you're in luck! I've put together a list of ideas to help you create the ultimate gift for your own kids and families. If you love the idea of wrapping up an item to open, you can pair an experience with a small coordinating gift (ie: binoculars with a State Park Pass or a Wisconsin Badgers hat with hockey tickets). 
Here are 6 of my favorite local experience gift ideas! Happy shopping! 
State Park Pass. Wisconsin has amazing state parks, and there are a bunch within 50 miles of Madison. By gifting a State Park Pass, your family will have an entire year to explore trails, waterfalls, rock formations and campgrounds. Pair the pass with a book of hiking trails, binoculars or an instant camera to make it fun to open and exciting to use! 
Children's Museum Membership. Sure, kids LOVE the Madison Children's Museum, but it's actually really fun for adults, too! Members get invitations to monthly members-only events (usually with coffee!) and the whole family can have fun in the art room, checking out the animals on the rooftop deck or exploring the brand-new Wonderground exhibit. Pair the membership with a gift card to the Chocolate Shoppe on State Street and grab a cone after your visit!
Community Theater Performances. Theater is an industry hit hard by Covid, and supporting our local theaters with tickets to an event or season is an great way to introduce drama to your kids and support our local art community. Pair tickets with dress up clothes for kids so they can practice their own performances at home! 
Sporting Event Tickets. Living in a university town gives us an opportunity to attend all different sporting events – hockey, volleyball, basketball and so many more. Gift tickets to an upcoming game and pair it with a Badger hat or jersey!
Escape Room. We have several Escape Rooms in the Madison area and they are all a blast for the entire family. You'll work together to solve the puzzle and try to "escape" before time runs out. This is a great bonding experience and so much fun (especially for older kids!). Pair it with a restaurant gift card and grab dinner after you "escape"!
Hotel Gift Cards. Give an overnight stay in a local hotel (bonus points if it has a pool!) and enjoy some family bonding while you get out of your house and normal routine. Playing tourist in your own city is SO fun and gives you the chance to see and try new things. Visit a museum, check out the capitol or take a walk along the lake.