It's lake season! Summer in Madison wouldn't be the same without our beautiful lakes – from boating to fishing to kayaking to swimming – and there is always a (GREAT!) reason to get out on the water. Whether you're hopping into one of our natural watering holes or heading up north, don't forget the basics of water safety.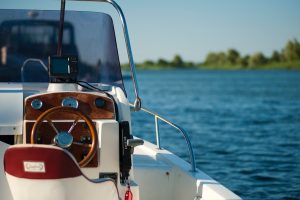 We've put together a list with some important tips to keep you and your family safe as you enjoy your trip to the lake (or river or pond!). So grab your cooler and sunscreen and enjoy these all-too-short summer days!
5 Tips for Enjoying Open Water AND Staying Safe
Check the water report
: From Memorial Day to Labor Day, Dane County Public Health conducts daily water reports for our local lakes. These reports will let you know if the water is safe to swim in, or if it has the dreaded blue-green algae that often pops up mid-way through the summer. Even if the water report is clear, conditions can change quickly. Stay away from algae blooms that appear blue-green, reddish-purple or brown. 
Bring life jackets for EVERYONE:
Every year there are drownings in our local lakes and rivers. The absolute best way to protect yourself while kayaking, boating or swimming on open water is to make sure you and your party are wearing coast-guard approved life vests. Our local Kohl's Safety Center can help you choose the correct fitting life-jackets and are reasonably priced.
Water watcher:
We share this tip time and again when we talk about water safety – choose a designated "Water Watcher" to make sure kids are safe while swimming. Water Watchers should be focused on making sure kids are safe and shouldn't be distracted by their phone, conversations with friends or drinking alcohol. Take turns "watching" so everyone shares the responsibility for keeping your party safe.
Sun + Heat Safety:
It may seem obvious, but make sure you bring enough sun protection (hats, sunglasses and sunscreen) for your crew. The sun is amplified while out on the water and it's easy to get burned quickly. Don't forget to bring extra water, too – dehydration is real! 
Know who to call in an emergency:
Make sure you have battery life on your cell phone and know who to call in case of an emergency. 
Bring a map!
If you're boating on a new body of water, bring a map or save the map to your phone. This will help in case conditions on the water change and make navigating tricky, or if you get lost or disoriented. Here's a list of Madison area lake maps, as well as pumping stations and buoys.
We hope you enjoy your trip to the lake, and STAY SAFE!