While the summer may be nearing its end, babies are born year round – meaning water safety doesn't stop when the public pools close. We've put together a list of both safety tips AND tips for making your infant's time in the water FUN!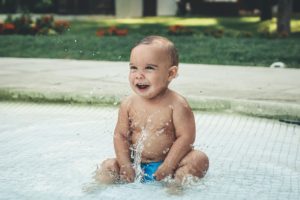 Watch the Play Toys: "Baby" Pools, buckets of water and other water play can be just as hazardous as the big pool. Babies can drown in just inches of water, making even the smallest of baby pools risky without adult supervision. Make sure you keep pools, buckets and other water toys emptied when they aren't being used – and obviously make sure you are ALWAYS watching when they are being used.
We Teach Arm's Reach: If you are near ANY type of water, your baby should be within an arm's reach. 
Forget the Arm Floaties: Blow up floaties are dangerous and should never be used by young children. Arm floaties can come off, deflate or pop (and if you've ever tried one, they are truly uncomfortable, too). Only use coast-guard certified life preservers, and make sure they aren't being used as a "crutch". Kids often learn a false sense of safety by constantly wearing flotation devices – as your child grows, make sure they are aware of how Puddle Jumpers or Life Jackets support them, and how to stay safe when they don't have one on.
Boating = Life Jacket: Everyone on a boat needs a life jacket, period. Even your infant. 
CPR Training is a great skill for ALL parents: Take a CPR class at a local hospital or community center, and be prepared just in case the worst happens. 
Make Water Fun: Before babies are ready for lessons (AAP suggest 12+ months), they will likely be introduced to water through baths or other water activities. This is a great time to slowly introduce the joy of water – by blowing bubbles, gently splashing water, playing water games together or singing songs. 
Take it Slow: If your baby hates baths, start slowly. Dip a foot in the water. Experiment with slightly different water temperatures. Does your baby like the water slightly cooler? Slightly warmer? Does it help if you are in the water, too? Make the water a safe, comforting place and set the stage for future swim lessons.
Observe a Parent/Tot Class at SwimWest: Watch how parents interact with their little ones in the water, and learn some of the songs and activities instructors help teach. If your baby is old enough to join in Parent/Tot classes, this is a great introduction to the pool. With warm water and a trusted adult, most babies do really well in these first classes! 
The water is a wonderful, relaxing place, and we hope your baby grows up to love the pool as much as we do here at SwimWest. These tips can help make sure your infant is safe and protected from drowning – and give you peace of mind that you are doing all you can to prevent a tragedy.
For more information on infant drowning, visit SafeKids.org.