It may be near zero outside and months away from spring, but it's never too early to start thinking about SUMMER! If you're anything like me, dreaming of warm, sunny days on a gray January morning helps make the long winter bearable. And, for those of us with kids that enjoy summer swim team, winter is a great time to get bodies and minds ready for summer of swim. 
The Madison area loves its summer swim programs, and you can find options from local public pools to private swim clubs. It's a great way to get your child involved in a fun, positive swim team environment, and a great way to build friendships, sportsmanship and your child's swim skills. 
Most summer swim teams aren't terribly competitive and are set up for fun. Even so, if your child shows signs of interest in swimming competitively, it's never too early to start prepping their skills for summer.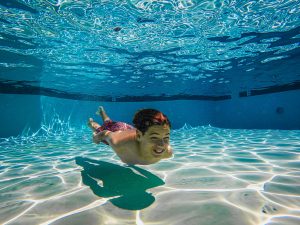 Here are a few tips to make sure your swimmers are ready for summer swim team this year:
Stay in lessons. Keeping up with lessons year round has a TON of benefits for kids, but it's a great way for swim team kids to keep up their strength, endurance and discipline. By continuing to refine their strokes and help them feel confident in the water, your kids will be ready to jump in the pool come June. 
Stay active. Whether you choose to stay in swim lessons or find another outlet for your child to stay active, it's critical to keep up your child's endurance year round. It can be exhausting to start swim team, and having a great foundation of exercise throughout the year can make the transition that much easier. Winter is a great time to try a new activity and there are a ton of sports that play indoors – basketball, indoor soccer, volleyball and gymnastics, to name a few.
Get in the water, too! Find a way to hop in the pool a few times over the winter, JUST FOR FUN! SwimWest has open family swim, and it's a great opportunity to splash, play and remember how fun the water can be. By making the water a safe place for your child, it will help make swimming fun and enjoyable for your child.
Try a private lesson. This is a great way to refresh your child's skills before swim team starts up. SwimWest offers private lessons and the one-on-one time with an instructor can be a huge boost in swim skills.
Hang in there, Madison families! Summer will be here before we know it…and hopefully, we'll see you all at the pool!