Enjoying Dane County's Outdoor Lakes
The temperature has finally crept up to where an outdoor water adventure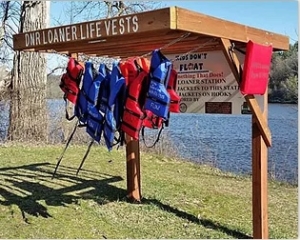 seems like a possibility. In Dane County, we are so lucky to have our pick of many fantastic lakes, rivers, and streams. But before you hit the road to the closest one don't forget your life jackets!
Luckily in Wisconsin, the Friends of the Lower Wisconsin Riverway (FLOW), supported by the Wisconsin Department of Natural Resources, have created life jacket loaner station kiosks in case you don't remember. You'll find these stations at boat landings located from Prairie Du Sac to Prairie Du Chen.
Called the "Kids Don't Float" program, it began in Alaska in early 1996 and was adopted by the Wisconsin DNR in 2014. Now, FLOW is responsible for keeping these stations going not only through the swim season but also throughout the entire year.
The Kids Don't Float program features free day-use of life jackets for children and adults. You'll recognize a loaner station when you stumble across it. It's a large board with colorful graphics along with a supply of life jackets. Kids Don't Float allows the use of them during your time on the water. All that is asked is that the life jackets be returned as clean as possible when users are done with them. There is a number listed on every jacket that you can call to report any damage to it.
Timm Zumm, FLOW Founder, said that the program is in full swing this year with 13 kiosks available throughout the lower Wisconsin riverways.
"When you pull into a parking lot at a boat landing," Timm said. "Take the seat belt off and put the life vest on before you start doing anything else. It's so easy to get distracted and especially along the river – one wrong step along the riverbank and in you go. It's too easy to get washed away."
Timm says there has been a lot of support for the program so far. In fact, since the program started, people have been dropping off lightly used life vests to add to their supply which has been a tremendous help. After inspection, the used jackets are repurposed for the program.
The future of Kids Don't Float looks strong. Besides the kiosks, the group educates the public on Wisconsin waterways safety by offering talks and programs. If you or your organization is interested in sponsoring an educational talk for your club, school or summer camp contact FLOW to arrange a visit.
As a total volunteer organization, the group is trying to raise $3,000 to cover the expense of a new enclosed trailer that they recently purchased. "It is our mobile workshop that we use to store all the life vests and where we keep the equipment to maintain the kiosk," he said. "This is a great way to keep them organized and protected. We will start putting them out in the next few weeks."
The last thing Timm wanted our SwimWest families to know is that the program is for everybody. He also hopes the next time you are at a Kids Don't Float kiosk that you'll take the time to straighten up or clean off the jackets. "We appreciate the help," he said. "It really does take an involved community to keep a program like this going, and everyone can get involved in one way or another."
You can read more about FLOW on their website. To donate or arrange a talk email them at wisconsinriverfriends@gmail.com or give them a call on 608 575-0325.