Last winter, our local park district brought activity bins to neighborhood parks with a bunch of fun snow activities inside. They had brick makers for building snow forts and games you could play in the snow. The most popular item in the bins BY FAR (in our neighborhood, at least!) were the bottles of snow "paint" that were filled with water and food coloring. The kids had SO much fun coloring the snow with their friends…and even decided to make colored snow bricks for their forts!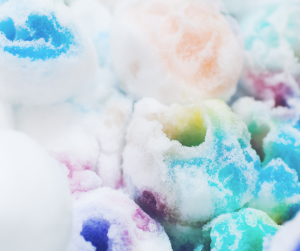 It was such a hit last year, I decided to look up the recipe so we could make our own this year…and you can, too! It's easy as can be, and you probably have the ingredients at home already. Here's how to make your own snow "paint" this year!
What you'll need:
Spray bottles, ketchup bottles or other vessels to hold your colored water
Food coloring
Water
How to:
First, choose your vessel. We loved these bottles from last year, and you can find them at Walmart for around $1. You can also use literally any container to hold your water. Think squirt guns, recycled condiment containers or turkey basters. Get creative with whatever you have on hand!
Next, fill your vessel with water.
Finally, add drops of food coloring and mix! You can let your kiddo try mixing colors to create their own purples or oranges, or go with the classic red, blue and green.
Head outside and paint away! You can join in the fun by writing words, coloring pictures or creating your very own scavenger hunt. Enjoy!