If you're a regular SwimWest family at our Deming location, chances are high you've seen Alyssa. She is an all star Swim Instructor, Customer Service Rep (helping with questions, phone calls, scheduling and more!) and a Counselor for Swim&Gym Camp. We are so lucky to have her on the team!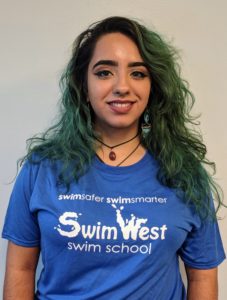 Here are some fun facts about Alyssa!
1. How long have you lived in the Madison area?
I have lived here 3 and a half years, and what brought me here were the friendly people of Madison and a want for something new!
2. What's your day like at SwimWest?
During the busier days at SwimWest, I enjoy how much excitement is always going on!
3. 3 Things you Love about SwimWest
I love the friends I've made, the families I work with and the memories I will have forever!
4. Favorite Madison area restaurant
Sugar River Pizza for sure.
5. Wisconsin Winters or Wisconsin Summers?
Definitely the summers! The wild flowers here are so pretty!
6. Favorite Swim Stroke
Breaststroke!
7. Something You're Looking Forward to
I'm looking forward to Autumn, and seeing the leaves change colors.
8. Something you have learned from your job
I have learned to be more patient and forgiving, thanks to SwimWest!
If you see Alyssa around the pool, make sure to say hello!