We have so many wonderful employees at SwimWest and we are excited to highlight Ms. Carina this month! Carina joined the SwimWest team in 2019. She has always loved swimming and started her club swimming career here at SwimWest! She loves working with kids and sharing her love of swimming with them. She is continuing her swimming career at JMM High School. In her spare time, Carina loves to read, play with her dog and play ultimate frisbee.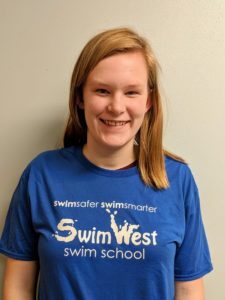 Here are some fun facts about Carina!
1. How long have you lived in the Madison area?
I've lived in Madison for 16 years.
2. What's a Typical Day like for you at SwimWest?
My typical day is showing up, getting ready for my shift,(moving platforms, getting changed, etc.), and starting to teach my classes.
3. 3 Things you Love about SwimWest?
I love SwimWest because of the people working alongside me, the wonderful charity work this company does, and the kids I teach!
4. Favorite Madison area restaurant?
I really love Laredo's and Chin's Asia Fresh.
5. Wisconsin Winters or Wisconsin Summers?
Wisconsin Summers all the way! Hiking, swimming, and warm temperatures make summer way more fun than winter.
6. Favorite Swim Stroke?
My favorite stroke is breaststroke.
7. Something You're Excited About?
I am looking forward to my Ultimate Frisbee season starting soon!
8. Something you have Learned or Taken Away from your job?
Through my job, I've learned many things, but the thing I appreciate the most is excitement over small things. I've learned this through helping my students realize how fixing tiny mistakes about their strokes can make such a big difference.  They become more confident with their strokes and are excited to swim, which makes me excited and happy too!