Meet Ethan! If you've ever been to our Madison West location, you've probably seen Ethan around the pool deck, front office or in the pool! Kids love him, and he's always ready to laugh and have fun. Ethan is also one of our counselors for Swim&Gym camp, and spends his summer days trekking around and planning fun activities for campers. If you see him around, make sure to say hello! We are so thankful to have Ethan on our team!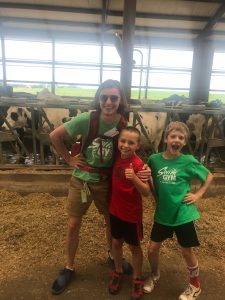 Here are some fun facts about Ethan:
How Long Have you Lived in the Madison Area?
I have lived in the Madison area my entire life, I grew up here on the West side. 
What is a "typical" Day like for you at SwimWest?
I would say there is no such thing as a "typical" day at SwimWest, which is one of the great things. You never know exactly what you're going to get which makes it fun.
3 Things you Love about SwimWest?
1: I love my co-workers and getting to collaborate with the other staff.
   2: I love the kids, they always improve my mood and make me laugh.
   3: I feel like many jobs are kind of rote and dull, but I always feel like I'm doing something that requires my full attention and is actually making a difference to someone.
Favorite Madison Restaurant?
My favorite Madison area restaurant is Delaney's. 
Madison Winters or Madison Summers?
Wisconsin Summers 
Favorite Swim Stroke?
Breaststroke, also the only one that I can do well.
Something you're Looking Forward to?
Something I'm looking forward to is Christmas and getting to spend time with my family.
Something you have Learned or Taken Away from your Job?
Patience. Children (and adults) often do not behave in the way you would want, and I have learned that it is not because they want to make your life more difficult, it is most often because they have something difficult going on in their own life.