Here at SwimWest, we just love our swim families, and we work hard to get to know our little swimmers and their families. We love hearing from families about WHY they love swim lessons and WHY they choose to bring their children (and grandchildren!) to SwimWest. Many thanks to the Mac Kenzie family for sharing their story and for being a part of the SwimWest universe.
 Interview with Elizabeth Mac Kenzie:
Why are swim lessons important to your family? 
We chose to have our sons, and now grandchildren, learn to swim because it is good all-around exercise and a sport you can do all year around, not to mention one you can do your whole life.  Not only are there many lakes and beaches in the Madison area, but we own lakefront property up north and want all of our grandchildren to feel comfortable in the water and be safe whether they are swimming or fishing or boating.  From backyard wading pools to Splash Pads, motel pools to beaches, and then the ocean with larger waves, we wanted our grandchildren to be at ease in the water.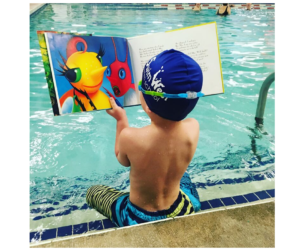 How did you hear about SwimWest?
We heard about SwimWest from a friend who recommended it when we indicated we were looking for a place to take our grandchildren for lessons.  Now we can't say enough about how excellent the program is and we highly recommend SwimWest to everyone!
Why did you choose SwimWest?
We chose SwimWest for its close proximity to our house, but we have stayed because of its excellent program!  The teachers are dedicated and know exactly how to motivate little ones and give great encouragement!  The extra props to help in lessons are great and get the kids excited when they can use the slide or other things! The water is a comfortable temperature so there is no problem getting in the water.  We especially like the safety skills the kids learn as part of their lessons, as we feel it is very important be comfortable wearing a PFD if it is needed, and to know how to rescue someone if they fell out of a boat or off a dock without putting yourself in danger!   Also, it is a very nice touch and the kids are thrilled to get encouraging ribbons and postcards throughout the course of their time there!  The front desk people and deck managers are always friendly and helpful and willing to answer any questions and assist with signups.
What is your Grandson's favorite part about swim lessons?
George's favorite part about swimming lessons is being in the water!  He loves to surface dive and if there were a few frogs or turtles at the bottom of the pool for him to dive down and pick up, I would never get him to leave!  Seriously, he so loves swimming that it is hard for him to slow down and take time to practice the individual specific skills the teachers want him to master!  We are most pleased with the patience and creativity of the teachers to help him work on his skills and we look forward to the day he will be on their competitive swim team!
We are very pleased that George can jump or dive in the pool and be able to swim back to the side (safety skill), and he is working very hard on several of the different strokes.  We are thrilled that he is comfortable in the water and with the creative motivating of the teachers, we are confident he will master the necessary stroke skills.