It may be February in Wisconsin with gray skies, blustery temperatures and occasional snow, but warmer days will be here before we know it!
As we head into March (Spring break!) and beyond, we wanted to share some updated recommendations from the AAP (American Academy of Pediatrics). The AAP is an organization of more than 67,000 pediatricians and medical specialists dedicated to the wellbeing of children. As research has shown drowning to be the leading cause of accidental death for young children, guidelines are becoming stricter and more specific when it comes to safety.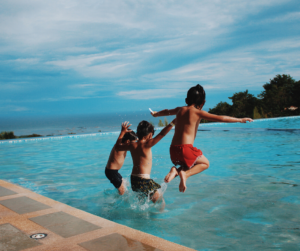 Here's what you should know:
Early Swim Lessons:
The AAP now suggests children begin swim lessons by the age of one. Research has shown babies this age benefit from lessons and may be critical in preventing drowning in young children.
Bathroom Supervision:
Never leave a child unattended in a bathroom, even with an older child. Small amounts of water (even inside a toilet!) can be dangerous for young children. Keep your eyes on your child whenever they are near water, even in your own home.
Water Watcher:
Nothing can replace the attention and supervision of an adult. When you know your child will be in the water, make sure you're not distracted by conversations or cell phones. Choosing a "water watcher" while at the pool can make sure someone is always taking control of your child's safety.
Create Multiple Barriers:
Create as many obstacles to drowning as possible, including: swim lessons; life jackets or other floatation devices; barriers to the water (such as a fence with a lock around a pool); and constant supervision (AKA choosing a "Watcher Watcher").
Even the very best swim lessons cannot prevent drowning. Water is risky for all ages, and taking proper precautions and stacking safety suggestions can help prevent a tragedy.
For more information about the AAP's recommendations, please visit https://www.aap.org/en-us/about-the-aap/aap-press-room/Pages/AAP-Updates-Recommendations-to-Prevent-Drowning-in-Children.aspx. For other tips on