Your little one is set to begin swim lessons – yay! As you prepare for the first few lessons, it's easy to focus on the actual swimming part, like making sure your toddler will actually get IN the water or worrying about how to get you AND your baby into swimsuits for your first parent-tot class.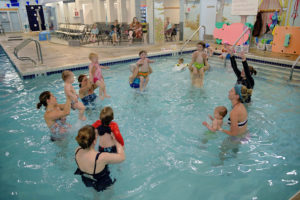 No need to worry! Here's a handy little checklist to help you pack for swim lessons:
Swimsuit. DUH. It seems obvious but we have run into a few swimsuit malfunctions along the way so I'm here to tell you, MAKE SURE YOUR CHILD'S SWIMSUIT FITS. We've had to get very creative in the past (thank goodness for hair ties!) when my son's swim trunks were a size too big! I also love 2-piece suits for girls because it makes bathroom visits mid-lesson So. Much. Easier.
Towel. Yep, obvious. Still, make sure you have one because drying your kiddo off with a hair dryer is a lot less fun.
Swim Cap. Kids must wear swim caps during lessons to help keep the pool water clean. It's also great for keeping longer hair out of kids' eyes!
Goggles. Your littlest swimmers may not want to wear goggles yet, and that's totally fine, but bigger kids need them as they begin to swim longer distances.
Swim Diapers, if needed. If your child isn't potty trained, or isn't consistently potty trained, they MUST wear 2 layers of reusable iplay swim diapers or one happy nappy reusable swim diaper. This helps prevent accidents and a huge mess in our pool water! If you need help choosing a reusable swim diaper, we sell them at the front desk.
Diapers/Wipes, if needed. If your child is still wearing diapers, make sure to pack a dry one for after lessons!
Snack or Money for the Snack Machine. My kids are always starving, particularly after school. If you are bringing your kids to swim lessons near meal time, make sure to pack a snack to help tide them over during lessons.
Shampoo/Conditioner/Soap. My kids always shower after swim lessons – including washing hair and body with soap.
Comb/Brush. My daughter has long, curly hair, and it can get easily tangled after swim lessons. I always make sure to pack a Wet Brush to help comb through her hair while it's wet.
Dry Clothes (or PJs!). Make sure your child has a set of dry clothes to change into after swim class. Pro Tip: If you have night lessons, bring a pair of pajamas they can throw on after class!
One last tip: make sure you leave plenty of time before lessons to hit the bathroom and to rinse off in the shower before lessons! Enjoy!