As we march head-first into the holiday season (complete with our very first snowfall last week!), you're probably either a. Thrilled or b. Over it. This year has been A LOT, and you'd be forgiven for wanting to fast-forward through the next few months to start dreaming of Summer 2021. In fact, we're already planning our Swim&Gym Summer Camp so you can make sure next summer is full of active, engaging fun for your kiddos!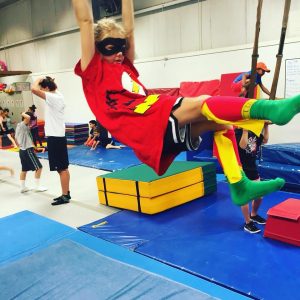 Swim&Gym Camp is a summer camp in the Madison area for children ages 5 to 13. Our camp is perfect for kids who love being active, trying new things, and making new friends. Each week our campers will enjoy swimming, basketball, soccer, dodgeball, karate, and much more.
Each week of camp has a special theme (past year's included themes like "Treasure Hunters, "Harry Potter", "Shark Week" and "Zootopia") with crafts and activities specific to the week. For a complete list and description of last year's weekly themes, click here – and stay tuned for our 2021 themes!
In addition to being named the Best Summer Camp in Madison, our camp team has also been awarded a Channel 3000 Top Notch Teacher Award. At Swim&Gym, our focus is to give each camper a fun, exciting, and truly rewarding experience they'll never forget.
Registration for our Summer 2021 Swim&Gym camp will open up on January 1, 2021. Mark your calendars – our weekly camps typically sell out quickly! When we are ready to begin signing up, click here to visit our registration page or call 608-831-6829 to speak with a friendly Swim&Gym Summer Camp representative.
To learn more about our camp, please look at our FAQ page.