Two years ago, my dad scared us all with a Melanoma diagnosis. He went through treatment, and he is healthy, but it was a wake up call about the importance of doing anything and everything possible to protect my family from dangerous UV rays. According to the CDC, more than 5 million people are diagnosed with skin cancer each year, in fact it's the most commonly diagnosed cancer in the US. Skin damage starts in your youth and builds up over time – the sun can damage your skin in as little as 15 minutes! Luckily there are a few simple ways to prevent sun damage and keep your loved ones protected.
COVER UP: I love rash guards in the summer – they protect a huge chunk of skin on your child! How cute are these options for kids?!
OLD NAVY BABIES/TODDLERS – $10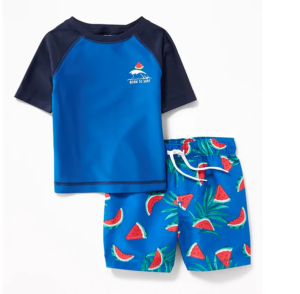 CAT & JACK GIRLS – $12.99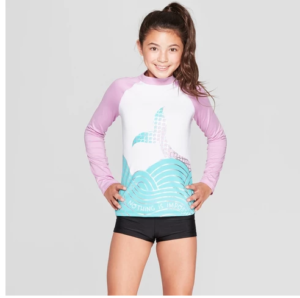 For myself, I love to use a cover up. I found a few cute ones at Target, but you can also throw a kimono on and they double as a cute layer on chillier summer nights! Amazon and Groupon both offer cute, inexpensive options. I love these from Groupon:
GROUPON KIMONO – $12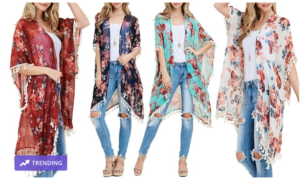 SWIMSUITS: Did you know certain brands offer swimsuits with sun protection? Typically these are a bit more expensive, but we have loved the suits from Hanna Andersson with built in sun protection. Lands End also offers some cute options for kids.
HANNA ANDERSSON SUNBLOCK SUIT – $50
EYE PROTECTION: Don't neglect your eyes! Make sure your kids wear a hat or sunglasses whenever possible. Expensive frames are NOT necessary – just look for a pair that block 99 or 100% of UVA/UVB rays. These cuties from Old Navy block 100% of rays and they are on sale for only $6!
OLD NAVY SUNGLASSES – $6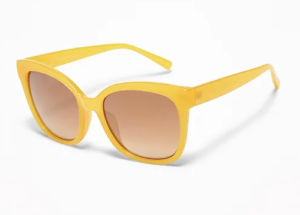 FIND THE SHADE: Even with sunscreen, it's best to find a shady spot if you're planning on being outside during the sunniest hours of the day (10am-4pm). Bring an umbrella to the beach, sit under a big tree and make sure to use the canopy of your stroller or wagon if possible.
SUNSCREEN: Pick a sunscreen with at least 15SPF and reapply often. Here's a great list put together by EWG that ranks the best sunscreens for kids based on ingredients, UV protection and longevity.
*****
Don't forget to be a good role model and make sure you're covering up and applying sunscreen, too! 🙂