My kids love to craft, and there's just something special about Halloween that makes crafting feel extra fun! From painted pumpkins to creepy skeletons, there are so many ways to decorate and craft for Halloween (my kids are ALL about the creepy crafts!). 
The thing is…crafting can be messy, time-consuming and frustrating as a parent. I mean, I love to see my kids create, and I love the joy it brings them, but sometimes I'm just not in the mood to bust out paint and glitter and set myself up for an extensive clean-up. I much prefer something that doesn't have supplies that roll all over the place or leave lasting stains…and ideally something that doesn't require a whole lotta hand-holding. 
If you're like me and love the idea of crafting, but need it to be super simple and as un-messy as possible, here is my absolute favorite Halloween craft for kids!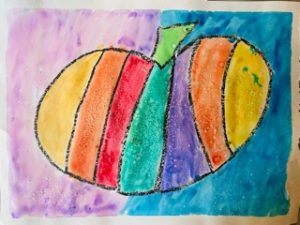 Watercolor Pumpkins with Salt Resist
Supply List:
Watercolor paper

Watercolors

Painter's Tape

Oil Pastels
Make it!
Use painter's tape to secure your watercolor paper to the table. I love the look of white edges, so I line the tape along each edge to create a "frame". 

Sketch a pumpkin with pencil (kids may need your help with this step!). 

Trace the pumpkin with oil pastels (any color works!)

Use watercolors to paint the pumpkin and background. The oil pastels will keep your design nicely outlined!

Once you finish painting, sprinkle a small bit of salt on the design to create a cool design effect! (Pro tip: let an adult do the sprinkling)

When the design is dry, gently shake excess salt into the trash

Ta-Da! Super cute Pumpkin Painting!
My kids love this project so much we have adapted it for all the seasons – trees for Christmas, eggs for Easter and leaves for Fall! So much fun! I hope you enjoy this project as much as we do at our house!