This month celebrates one of SwimWest's very favorite days – Swim A Lap Day! Yes, this is real, and it happens each year on June 24th to encourage people to hop in the pool and swim a lap (or 2!). While I'm normally happy to lay in the sun while my kids splash around in the water, it's a nice reminder that pools are for grown ups, too. It's not always easy to squeeze in summertime self-care when the kids have fifty million activities and you are making (and cleaning up!) 3 meals and fifty million snacks each day…but YOU need to have some fun this summer, too, and that's the joy behind Swim a Lap Day. 
So on June 24th, grab your kids, your suit and your sunscreen and find a nice spot to set up a towel and ice water…and then join in the fun in the water. You don't have to be an Olympic swimmer to have a good time in the pool – there are SO many ways to enjoy your time in the water. Have a race across the pool, see how many laps you can swim or have your child time you to see how fast you can go! Whatever it is that makes swimming "fun" for you, do it on June 24th!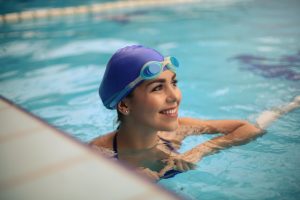 Here are some great options right here in the Madison area to soak up the sun AND cool down with a few relaxing laps in the water! 
SwimWest – while not actually outside, SwimWest is a great option for a rainy day, people that love warm water and those that prefer a relaxing, quiet environment! Lap lanes are available with a pool membership or family swim pass. (No sunscreen needed, either!)
Local YMCA – lap swim is available at the Lussier YMCA with a day pass ($8) or membership. This a great way to give lap swimming a try and they have a number of time slots available each day!
Outdoor Pools –

Here is a great list

of pools in the area. Take a look to find one near you, or if you're feeling adventurous, try one you've never been to before! Nothing beats the cool water on a hot day, and most have options for day passes AND seasonal memberships.

Lakes – lake swimming isn't for everyone, but it can be SO much fun – and it's FREE! We have a number of beaches in the Madison area and most have swimming areas roped off to keep swimmers safe from boaters, rocks or other hazards. If you'd like to try swimming in one of our local lakes,

here is a great list to get you started

.
Let's keep our fingers crossed for nice weather on June 24th – and don't forget swimming isn't just for kids! Hop in the water and take a lap or two this month – and make sure you have plenty of sunscreen, too!