Spring is around the corner (thank goodness!) and if you're anything like me, you're probably itching to get out of town. It's been a long, long year – and with a glimmer of hope in front of us, the dream of a family trip feels close enough to touch. 
With two young kids, our family trips inevitably include swimming. Whether it's an overnight in a hotel with a pool or a trip to the beach, it doesn't feel like vacation unless the kids can throw on suits and splash away. Luckily, my two little fish have spent years taking swim lessons at SwimWest and feel incredibly comfortable in the water.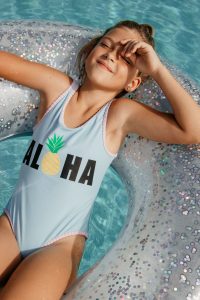 Swim lessons are a huge help in making family vacations safe and FUN! Why? 
Hotel pools are hard to resist.
If you've ever checked into a hotel with kids, you've probably walked past the big glass doors and windows showing a sparkling pool. Maybe kids are already swimming and splashing in the water and your kids stare longingly through the glass hoping for a turn. When we stay in a hotel, pools are a part of our trip. We always pack swimsuits and goggles and a few dive toys – and we almost always get changed the second we get to our room so the kids can burn off some energy in the water. Since my kids have been in lessons since they were in diapers, they have learned how to swim to the side, get out on their own and many other safety skills. 
It's the perfect way to tire out your kids.
Yep, I said it. On vacation it can be hard to get kids to settle down and rest, and bedtimes for us often get stretched wayyyy later than we'd allow at home. With a nice hour of water play, my kids are wiped. It helps calm them down, tire them out and get them to sleep! Win for all, I'd say!
Family play time in the water.
While I don't love the water *quite* as much as my two kiddos, it's still a blast to get in the water with them. We play catch with a water football or race across the pool. We have *tea parties* under the water and try to do hand stands. The water is a natural place for fun and bonding, and my kids love to have our full attention.
Kids can show off their swim skills.
My kids LOVE to show off what they've learned in swim lessons. They show me their "scoops", "dolphin kicks" and all their favorite moves. They feel so proud of themselves, and I love seeing how they've progressed over the years. 
Boating and other water activities.
While swimming is always high on our list, it's not the only reason swim lessons help make family vacations safer. Boating, fishing and other water activities all come with an inherent risk, and knowing how to swim can be lifesaving. SwimWest hosts a safety week each month so kids can practice wearing life jackets, swimming in clothes and learning how to help pull someone out of the water. These small safety lessons give the kids the foundation they need in case of an emergency – and make them less likely to complain about wearing a life jacket because they've learned its importance.
Whatever you have planned for the upcoming warmer weather, I hope you have a blast. You deserve it after the past year! 
If you'd like more information about swim lessons or have questions about the SwimWest program, please call 608-831-6829.