Treat your kids to the Best. Summer. Ever. Join the most popular summer camp in Madison and let your kiddos enjoy themed weeks like "Pokemon Go", "Star Wars", "Spy Kids" and "Treasure Hunters". Swim&Gym Summer Camp is a partnership between SwimWest Swim School and Badger Gymnastics Academy which means lots of fun, active and memorable experiences all week long!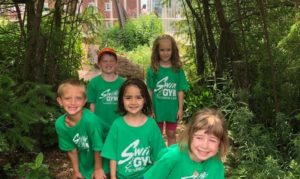 While sports play a role in our camps, children don't need to be athletes to enjoy them. We teach each camper according to his/her ability and make each activity rewarding and fun. Our counselors work hard to coach, educate and motivate each camper on an individual level.
Check out this video to see what a day in the life of our campers is like.
Here is more information about this year's Swim&Gym Camp!
WHO:
Our camps are co-ed and open to children aged 5-13 who love being active, trying new things and making new friends!
WHEN:
Composed of 12 one-week sessions, each day runs from 8:00am-3:30pm with before and after care available. The first week of camp is June 8-12.
WHAT:
Campers will enjoy swimming, gymnastics, basketball, soccer, dodgeball, karate, gardening, field trips, and much more at Swim&Gym Summer Camp!
In addition to sports, campers also get to experience a new theme each week of camp. Treasure Hunters, Harry Potter, Shark Week and Zootopia are just a few; but it doesn't stop there! We also incorporate field trips into each week, traveling to such places as state parks, Busy Barns Adventure Farm, the Children's Museum, and Ultrazone (Click here for full list).
REGISTRATION & PRICING:
2020 Registration
Registration for Summer 2020 is now available! You can sign up for a single week, multiple sessions, or the whole summer- it's up to you.
First Session: $310 per child
Additional Sessions: $290 per week, per child
Full Summer
(12 Weeks)
– – –
First Child: $3348
Additional Siblings Sessions: $3248*
Payments are due in full at registration. If attending multiple sessions, full payment is due for the first session while payment for additional sessions is due two weeks prior to the start of your next session. If you choose not to pay for multiple sessions at registration (or pay with check), a credit card number is required to keep on file.
For more information, visit https://www.swimgymcamp.com/ or call 608-831-6829