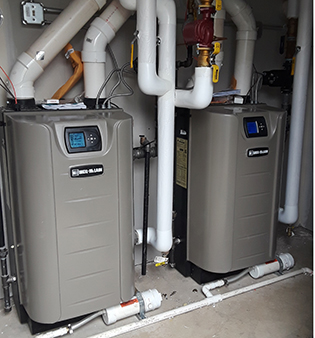 Our large indoor pools are heated to 89-90° to provide a pleasant environment for babies, children, and teens to excel all year-round. To maintain that comfortable swimming pool temperature for our swimmers, owner Karen Clay recently installed environmentally friendly pool heat pumps. Run by three energy-efficient boilers, these new pumps promise to be easy on the environment. It's a move Karen, and her staff considers an essential part of the school's effort to reduce energy consumption and air pollution. 
Heating it Right!
Making the choice to use energy efficient pool heaters made a lot of sense. Karen chose pool heat pumps to provide a level of performance that no other options matched. But Karen wanted to do it right. She decided to call the experts at FOCUS ON ENERGY® for advice. She was able to participate in their small business program. In addition to the boilers, as part of the program, she also installed LED exterior lighting fixtures and replaced 92 interior bulbs with LEDs. Focus on Energy is Wisconsin utilities' statewide energy efficiency and renewable resource program. You can learn more about Karen's involvement and the difference it makes in the program here.
Recipient of the Coutts Family Scholarship
Speaking of making a difference, Karen's
recent written proposal to the Coutts Family Scholarship grant awarded her a win! The money from this grant makes it possible for her to travel to Germany and Amsterdam in July. When there, she will explore and research the latest energy technology used by several worldwide recognized schools.
The Coutts Family Scholarship grant
was founded
to help develop future leaders in the swim school industry
. It's a way the organization gives back to the swimming world.
"The Germany/Amsterdam trip is all about energy.
We are visiting pools that are 100% energy efficient with using rainwater, solar panels, and wind to work their pools
.
They know how to recapture energy in their facilities, which I will be asking lots of questions about and recording what I found out," said Karen
.
Karen will present her findings from her trip in Milwaukee this September at the U.S. Swim School Association's annual meeting
.
She will also write articles for the Association about what she learns while working with Focus on Energy
. Join us in congratulating Karen and her team in all their efforts! Stay tuned for more information on her discoveries.
We'll continue to post on how SwimWest will forge ahead while we do our part to conserve energy and protect the environment
.