As a parent, I want my kids to love the water as much as I did as a kid – diving for rings, playing Marco Polo, blowing bubbles, racing their friends, sliding down slides or just splashing in the pool…Swimming is such a great way to cool off on a hot day, exercise or just socialize with friends!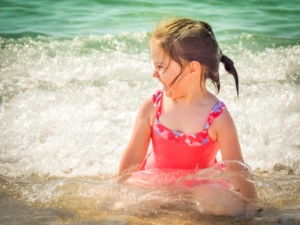 As much fun as swimming can be, it's also incredibly important to me that they learn water safety, too. The good news is, by helping kids enjoy the water, they are much more likely to enjoy their swim lessons!
Here are some ways I've found helped my kids develop a love of water.
Early Water Play
I wanted to introduce water to both my kids early on, and I wanted them to love it from an early age. They both began swim lessons as babies in SwimWest's "Parent Tot" classes, but to be honest, water play started much earlier than that. We made a point to make bathtime fun for them – being silly with water, laughing a lot and watching them splash and blow bubbles.
We also let them play with water whenever we had the opportunity – like the Madison Children's Museum "water room", splash pads or baby pools. Whenever they were able to dip their hands in, pour water into cups or move at their own pace, they enjoyed the water.
This made their introduction to swim lessons SO much easier – the pool is warm, teachers are really positive and kids are able to work at their own level and pace.
Positive Reinforcement
One thing that has helped my kids love swim lessons is the regular positive reinforcement at SwimWest. Instructors give ribbons for mastered skills and passing a class, and end each class with something fun – from a little water slide to diving in the deep end. While there are certainly days that my kids don't feel like going to swim class, once they are in the water they always have a great time!
Swimming for FUN
Swim lessons involve a lot of hard work and discipline. Learning strokes, waiting turns and repeating skills over and over is difficult. We make sure our kids have time in the water that is purely fun, where they can jump in as many times as they'd like, dive for rings, splash each other or just play with toys. SwimWest offers open swim during the week and it's a great opportunity to take your child to swim for fun, or let them show off their skills.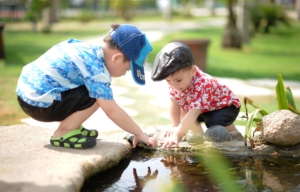 In order for kids to be safe in the water, they have to learn to swim. Help them enjoy lessons and swimming by showing them swim time = fun time!