SwimWest offers a full spectrum of swim classes – from Parent-Tot to our SwimWest Sharks. In between, SwimWest works closely with swimmers to make sure they are meeting specific milestones. Have you ever wondered what goes on behind the scenes or how we evaluate your swimmers? Here's an overview of how our swim program works, and what it means to swim in our highest level classes – Manatee, Whale, Dolphin and Sharks.
In the earliest levels, we focus on creating an environment of safety, water awareness and water enjoyment. These early lessons focus on building a child's comfort in the water and easing any concerns or fears they may have about swimming. Skills may consist of putting faces in the water, blowing bubbles, flipping onto backs and monkey crawling on the wall. These are essential steps on the path to becoming swimmers!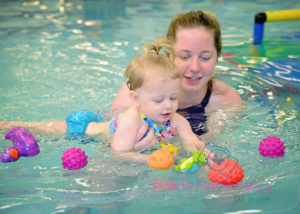 As children progress, they stay in small, ability-appropriate groups. This helps instructors focus on the specific needs and skills of the class and work hard to build the foundation of swim strokes and water stamina. Students will learn to breathe, practice the four main strokes and learn to coordinate kicks and movements.
These lessons help children learn to swim independently and help build their confidence in their abilities. Students will learn to swim longer distances on their own and begin to focus on stroke refinement, timing and consistency.
Finally, students reach our upper level classes: Manatees; Whales; Dolphins; Sharks. These higher classes are a huge developmental step in becoming strong, competitive swimmers. As these classes focus on endurance, stroke refinement, and competitive strokes, they are critical for children interested in swim team or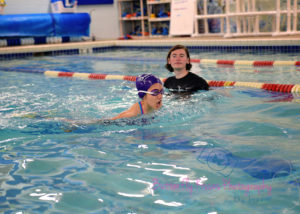 mastering techniques.
Once children enter Manatee level and above, they will be in larger classes for longer periods of time. Manatee, Whale and Dolphin classes are each 45 minutes long, while our Sharks group practices for an entire hour. The length of practice helps build endurance, and the larger number of swimmers in each class help prepare students for the team atmosphere of outdoor swim clubs. The school year is a LONG time to go without the rigors of summer swimming, and these upper level classes help our swimmers stay competitive and maintain their endurance during the fall, winter and spring.
Beyond just the weekly classes, SwimWest also offers Stroke Clinics to help swimmers fine tune skills before returning to outdoor swim teams in the summer. Stroke Clinics are offered throughout the early months of the year to focus specifically on Freestyle/Backstroke, Butterfly/Breaststroke and Dives/Turns. These intensive workshops help students build strength and offer individualized attention to strokes.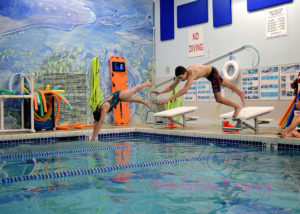 There you have it! Those early classes build a foundation towards our Upper Level Program and help instill an early love of the water. We are proud of our upper level kids and how hard they've worked to become strong, confident, competitive swimmers. See you in the Pool!