While it might seem easier to take a break from swim lessons during the school year, and particularly the winter months, we have found swimming year round helps our kiddos keep up their skills and their love for the pool. Anytime we've taken "breaks" our kids inevitably get rusty and that makes it so much harder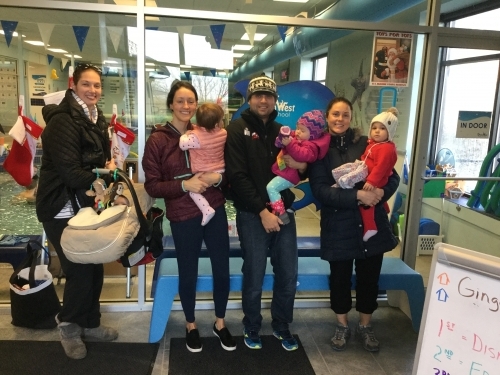 to feel confident and excited about swimming! Plus, it gives us something to do to get out of the house and stay active when it's too cold for the park.
Here in Wisconsin it can literally be cold for nearly half the year, so here are a few simple tips we have found make winter swimming MUCH easier on us all!
Make sure to pack a hat. Swim West has hair dryers in the locker rooms if you have the time, but it's so much quicker and easier to throw a hat on after swim class.
Wear loose fitting clothes. We have made the mistake of wearing tights to swim class and it is SO MUCH HARDER to get dressed in tight fitting clothes when your skin is a bit wet. Skip the leggings/tights/layers and think simple, loose fitting sweatpants or warm, snuggly sweaters. Slip on shoes (like furry Crocs or sherpa lined boots) are also great choices!
Rinse off and lotion up. My kids get very dry skin in the winter, so we always make sure we rinse off the chlorine after swim class and pack lotion in our swim bag. A dab of Vaseline or Aquaphor on the cheeks really helps prevent chapping, too.
Enjoy the warm water! Pretend it's not 15 degrees outside and come enjoy our warm water pool. Bring your kids to open swim and watch them show off their skills and help them practice what they've learned in class.
Those are our best tips for winter swimming. Let us know if you have any other ideas and hope to see you at the pool!