After a few long Winter months, it finally feels like Spring is on its way, with birds chirping, snow melting and a few not-freezing days. It's March! March is one of my favorite months of the entire year. There's just something about the promise of warm weather and sunshine that makes me feel ready to handle even a last ditch Wisconsin snowstorm. One of my favorite things to do in March is get my seeds started indoors, in preparation for (hopefully) a nice long summer of harvesting fresh veggies, herbs and flowers. My kids really enjoy it, too, and I give them their own seed starting trays to fill with soil and let them choose their own seeds to start. Last year we also gave them their own little section of garden so they could transplant their little veggies to their own garden space. They had so much fun watching their plants grow all summer! And it all starts with a tiny cup, seed and sprinkles of water in March.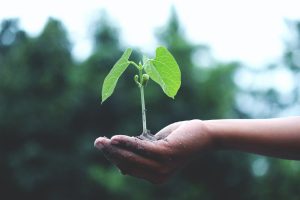 Don't be intimidated, and don't expect every single seed to pop. That's why we plant lots of extras at our house. There are some options, however, that are easier than others, and more likely to show your kids how fun and simple it can be to grow a plant.
Here are 5 of my favorite seeds to start indoors, and a few tips to get you started! Enjoy!
Tomatoes. My kids eat fresh tomatoes off the vine ALL summer long. We plant a ton just so we never run out, and it's one of the easiest and most recognizable plants to start indoors. Tomatoes have distinctive leaves just in case you forget what you put in your seed starter cup
Cucumbers. Here's another crowd pleaser! My kids love cucumbers and there is nothing better than collecting a whole bunch of freshly grown cucumbers in the summertime. We slice them for salads, drop slices into ice water and just munch them plain. They're quick to "pop" which makes them a really fun one to start indoors when you can easily watch their progress.
Marigolds. It's fun to have a flower to start from seed, and Marigolds are both beautiful and helpful little additions to your garden. They help repel pests and offer a bright splash of color. They're also fairly simple to start indoors, unlike some other flowers, making them a go-to choice for our family.
Basil. YUM. Basil is simple to grow and so delicious fresh from the garden. This is a great one to start indoors.
Peppers. Peppers grow fast and are usually pretty hearty, making them easier to transplant into your garden come summer. We always grow some spicy peppers and a few bell peppers each year.
Tips for starting your seeds:
You can use any "container" you'd like. Recycle egg cartons, or fill tin cans, plastic cups or whatever else you can find in your recycling bin. You can also purchase seed starting containers pretty inexpensively at a local garden store or Menards.
Whatever you choose, you'll fill the container with soil. We like to choose a seed starting blend, but feel free to experiment with whatever you have around the house. Even the Dollar Tree typically sells little bags of soil in the Spring, so there's a great inexpensive option if you're interested.
Look at the back of your seed packet for specific instructions on how deep to press your seed into the soil. Most are around 1/2 inch deep. Poke a finger into the center of your cup and drop your seed down, and then cover it with soil again.
Place your container where it will get lots of light – a windowsill, sunny room, or under a bright lamp.
Give it sprinkles of water or use a spray bottle.
Watch for it to sprout!
When the danger of frost has passed, you can transfer your seedling outdoors. Carefully pull it from its container and tuck it into a planter or garden outside. Give it lots of water and sunlight and hopefully you'll be enjoying fresh produce all summer long!
Enjoy!